Within the Coaching add-on, managers-coaches can recommend training courses to their learners-coached, according to their areas of progress or to strenghten knowledge already acquired. It is also a way to notify learners in a more personalised way that a new course that might interest them has just been published.
1. Give access to the catalogue's training courses to your managers in the Mission Center
The first step is to make the training courses in your catalog available to your manager-coach.
> MANAGERS / Your Manager > Access to training courses
To do this, simply select the training courses in your coach's Manager profile.
By default, a manager has access to all training courses in the catalog. Click on the button for editing training access and choose the third tab "Select training courses" to choose the training courses he/she can recommend.
If you give access to a category, the manager will automatically have access to any new training courses created within this category.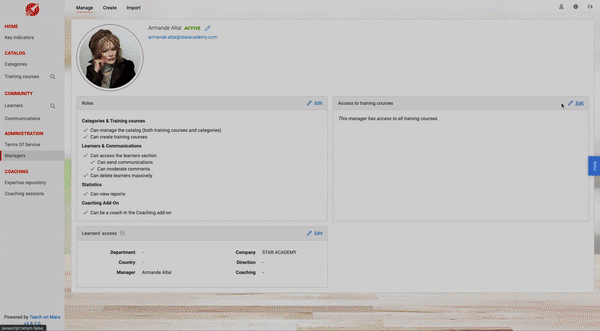 Note: By default, the manager will see on the Coaching add-on the courses to which you give him/her access as a manager on the Mission Center. As of release 3.10.0 (November 2022), it is possible to change this and allow managers to see the courses to which the learners they coach have access. Ask your Customer Success Manager if you would like to take advantage of this setting.
2. Recommend training courses in the Coaching add-on
Once access to training courses has been managed, the manager-coach can recommend training courses directly within the Coaching add-on.
To do this, he/she clicks on the "+" button and then selects "Recommend a training course".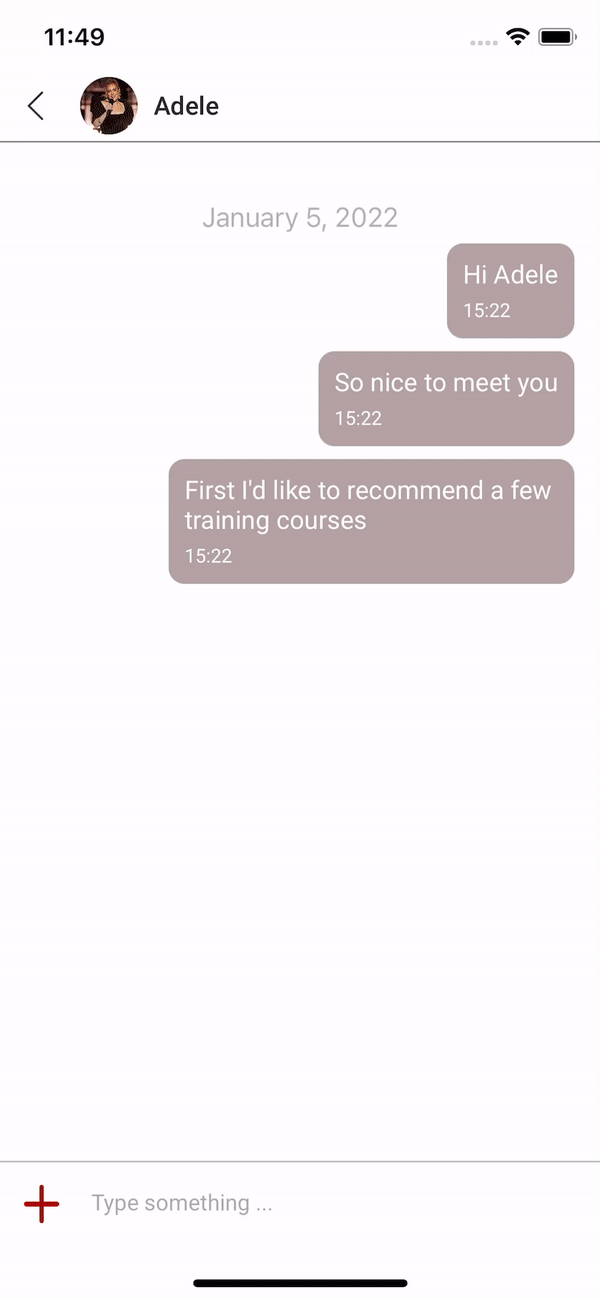 Note: training course recommendation can only be done through the Coaching add-on, it cannot be done through the Mission Center.
3. Track registrations in the Mission Center
Once the training course has been recommended, the learner receives a notification (only on a mobile device) and can access the training course via the direct link in the discussion thread with his/her Coach.
In the Mission Center, a new access rule "Coaching add-on" is created for this training course: it gathers the registrations of learners following a recommendation.

Note: the "Coaching add-on" rule contains the list of all learners registered for this training course following a recommendation. If a learner already had access to the training course via another access rule, he/she will also be in the list of "Coaching add-on" subscribers. If a learner did not previously have access to the training course, the recommendation opens access automatically via this new "Coaching add-on" rule.
4. Edit the access rule for a recommended training course
The Mission Center administrator has the ability to remove one or more learners from the "Coaching add-on" access rule, by editing this rule.
5. Track recommendation statistics
Recommendation statistics are available in the CSV export of coaching sessions.