In order for a manager to be able to access the Manager add-on or the Coaching add-on on the application, you must associate their manager account (which defines their roles and access) to their learner account (which allows them to access the application).
The manager / learner association via CSV import
You can associate your manager's account with his/her learner account by importing a CSV import file.
Managers > Manage: export the list of your managers

Managers > Import : download the sample CSV file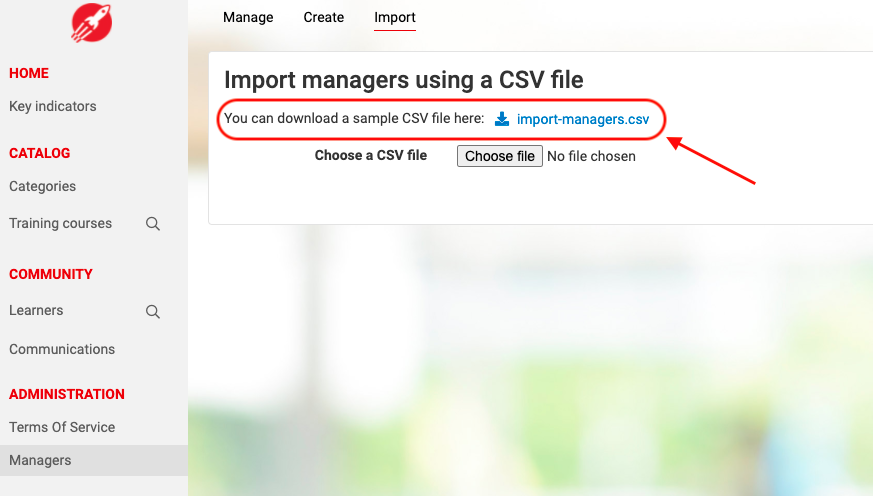 Copy and paste the information from the export file to the import file.
Add the Learner login of your managers in the last column ("learnerLogin")
Save the file in CSV UTF-8 format then upload it to the Mission Center
Your manager accounts are updated!
Note: the manager / learner association via CSV import is available for super admins and managers with the role "Can create managers".
Associate your own manager account with your learner account
By accessing the Mission Center with his/her account, a manager can associate his/her manager account with his/her learner account.
Log in to your Mission Center with your manager credentials
Click on the icon at the top right of the screen .
Link your manager account to a learner account: type the beginning of the name of your learner account (login or e-mail address). Select it from the drop-down list and click Apply.
Note: a manager account can only be linked to one learner account. Be sure to review the list of your managers accounts - including super admin accounts that could be used by several persons. It is preferable that each manager account (super admin or not) is linked to one nominative email address.
How do I link a Super Admin account to a Learner account?
Super Admin accounts cannot be exported in CSV format with the list of other managers. Therefore, a Super Admin must associate his Super Admin account with his learner account from his manager profile.
How do I remove the association of a Manager with a Learner account?
A manager can delete the association with his Learner account if he/she has access to the Mission Center. To do so, he/she just has to go to his/her account and click on the delete icon next to the name of the associated Learner account.

A Super Admin can use the Managers import file to make an update. He just has to leave the "learnerLogin" cell empty and import the file back into the Mission Center for the change to take effect.