Availability date: 01-02-2021
New features
WeChat Integration (option)


The Teach on Mars web application can now be accessed from inside the WeChat application: learners can find all their training content directly in WeChat, by clicking on the links within the conversations or in the shortcuts of the conversations of group.

Thanks to this integration, you can share a communication, training course or activity directly in your WeChat groups. Your learners just have to click on your link to find themselves immersed in their training environment and view the content. One more way to reach your learners where they are!

This integration is priced separately. Please contact your Teach on Mars account manager if you're interested.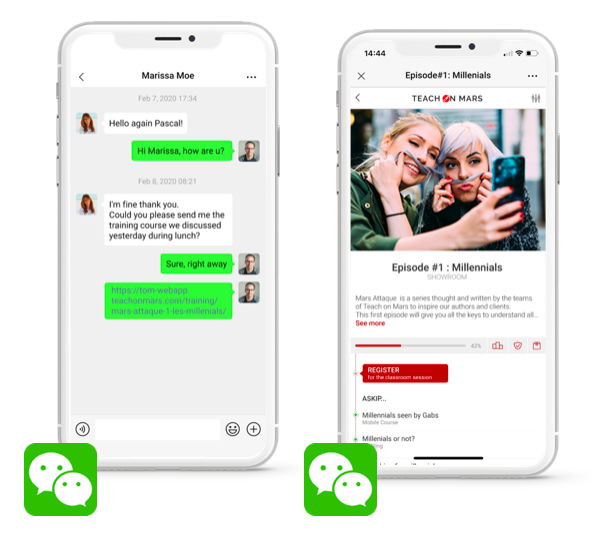 New educational game: The "Multiquiz"



To start 2021, your app is getting a new educational game: The "Multiquiz". It's some kind of multiple choice quiz, with multiple answers, and more.

The "Multiquiz" activity offers a series of questions to the learner. For each question, several answers are possible. The learner can swipe left and right from one answer to another, and must indicate whether each answer is correct or incorrect. The learner then validates the answers to this question and can then move on to the next question. Once all the questions have been completed, the learner can access the correction.

Multiquiz allows you to embed answers that include long texts or images. Also, you can customize the background image in this activity.

This feature requires republishing your app. Please contact your Customer Success Manager.