To share a full version of any content, you will need to generate a content license by
proceeding as follows:
Any new client must start by sending you a content request via their Mission Center. Once you have received the request by email, you can download the client identity file (.key file, as an attachment to the email). This file only has to be added once. The client will not have to repeat the operation and you will be able to start directly at step 2 for subsequent licenses.

> CATALOG / Training courses > your training course > Administration

Click on Generate license (see here if the button is not displayed).
Fill in the form as follows:
Identify the recipient, either by choosing "New client" (in which case drag and drop the .key identity file received as an attachment with the client's request), or using "Existing client" (in which case select the client from the list of clients already registered).
Specify a maximum number of learners; otherwise check the"No limit" box
Add an expiry date for the license; otherwise check the "Never expires" box.
New client : insert the .key file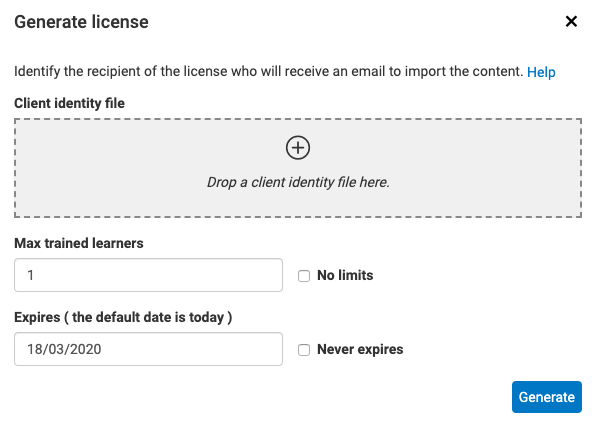 Finish by clicking on Generate
At this point the client is notified by email and guided to the destination Mission Center to import the training course.