WHAT IS THE MANAGER ADD-ON FOR?
The point of the manager add-on is to allow your managers in the field to access their learner population stats directly on your mobile app, without having to access the Mission Center!
INFORMATION PROVIDED IN THE MANAGER ADD-ON
The manager add-on comprises three different tabs:
The dashboard

- with general information on the use of your app

My team

- with the list of learners and their statistics

The training courses

- with data relating to the courses in your catalog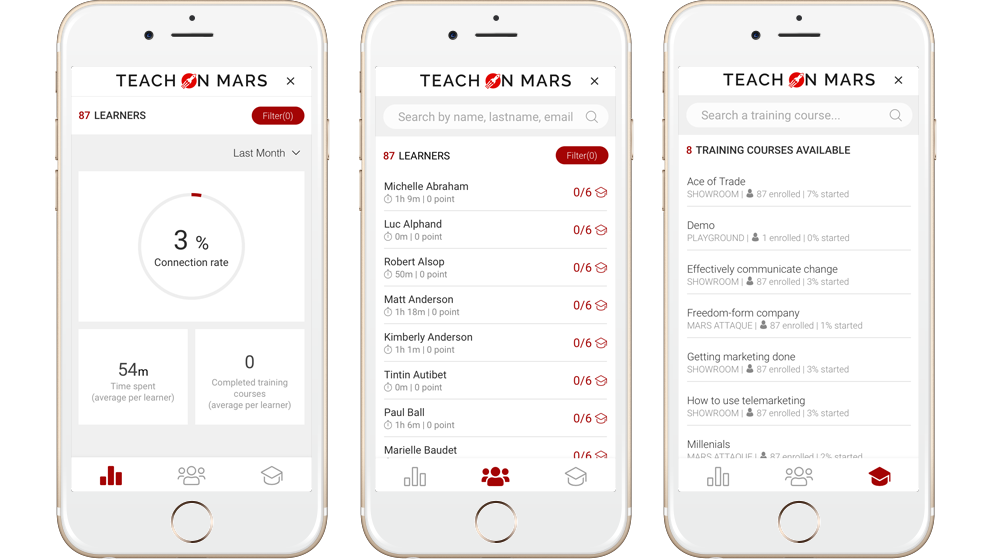 HOW TO INTEGRATE THE MANAGER ADD-ON INTO MY APP?
The manager add-on is, as its name suggests, an add-on: a module that can be integrated into your application. It is a paying option - please contact your account manager for pricing details.
Integrating the manager add-on does not require you to republish your app.
Note: The manager add-on is only available in mobile app version.
Find out more about how the manager add-on works