Note : custom fields can only be created / modified by a super Admin account
Custom fields specified in learner accounts allow you to set up filters on the information in order to obtain a more concise display containing only the necessary data. You determine them when you create your Teach on Mars solution.
They can be modified at any time and supplement the mandatory fields, namely:
Login
Password
Status: Active (A) or inactive (I)
Content reviewer: Yes or No
Note: for the status, Active is the default value
How to use custom fields?
> COMMUNITY / Learners > Custom fields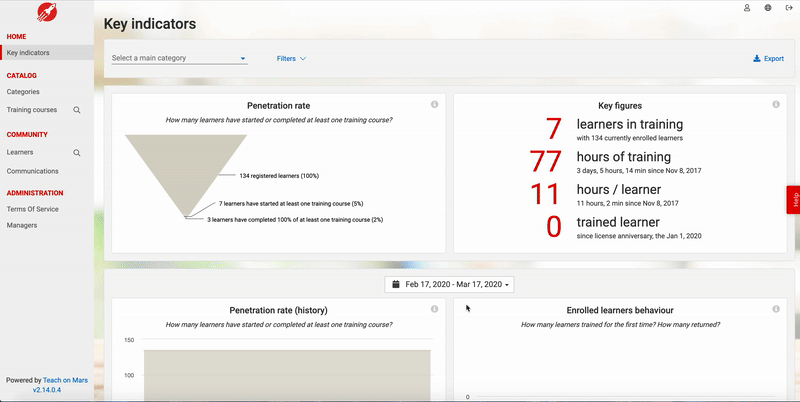 You can create multiple custom fields as you wish to. (Examples of custom fields: Company, Department, Country, ...).
Note: Do not use parentheses in custom fields.
Filters can be used in the Mission Center but also for Excel® export statistics:
To allow multiple values ​​for a custom field, check the Multi-values ​​box
To use the filters only in Excel® reports, check the Only in export box
To deactivate a custom field, check the Archive box
How to use filters?
Filters are used for many displays in the Mission Center:
HOME / Key indicators: Analysis of training course or learner statistics on a filtered population
COMMUNITY / Learners: Selection of a filtered population of learners

COMMUNITY / Communications

/ Create: Messages created for a filtered population of learners
ADMINISTRATION / Managers /

Filtres heading: Gives managers access to a filtered population of learners
CATALOG / Training courses : View on the Training courses of a certain category. Then allows to give access to a training course to a filtered population of learners, in the ToM Enterprise application via the Manage access to learners section.