> CATALOG / Training courses > your training course > Key indicators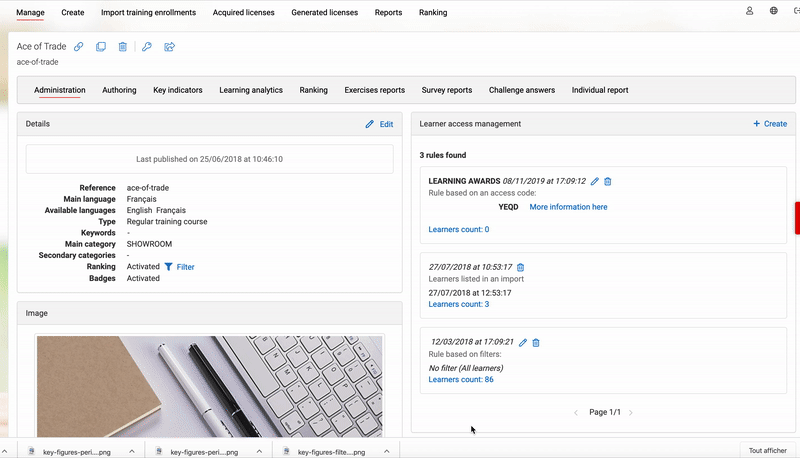 This statistics page presents the data below, which concerns only the selected training course (even if they are visually very close to general statistics)
Training penetration rate
General training course information (key figures)
The history of the training course penetration rate
The enrolled learners behaviour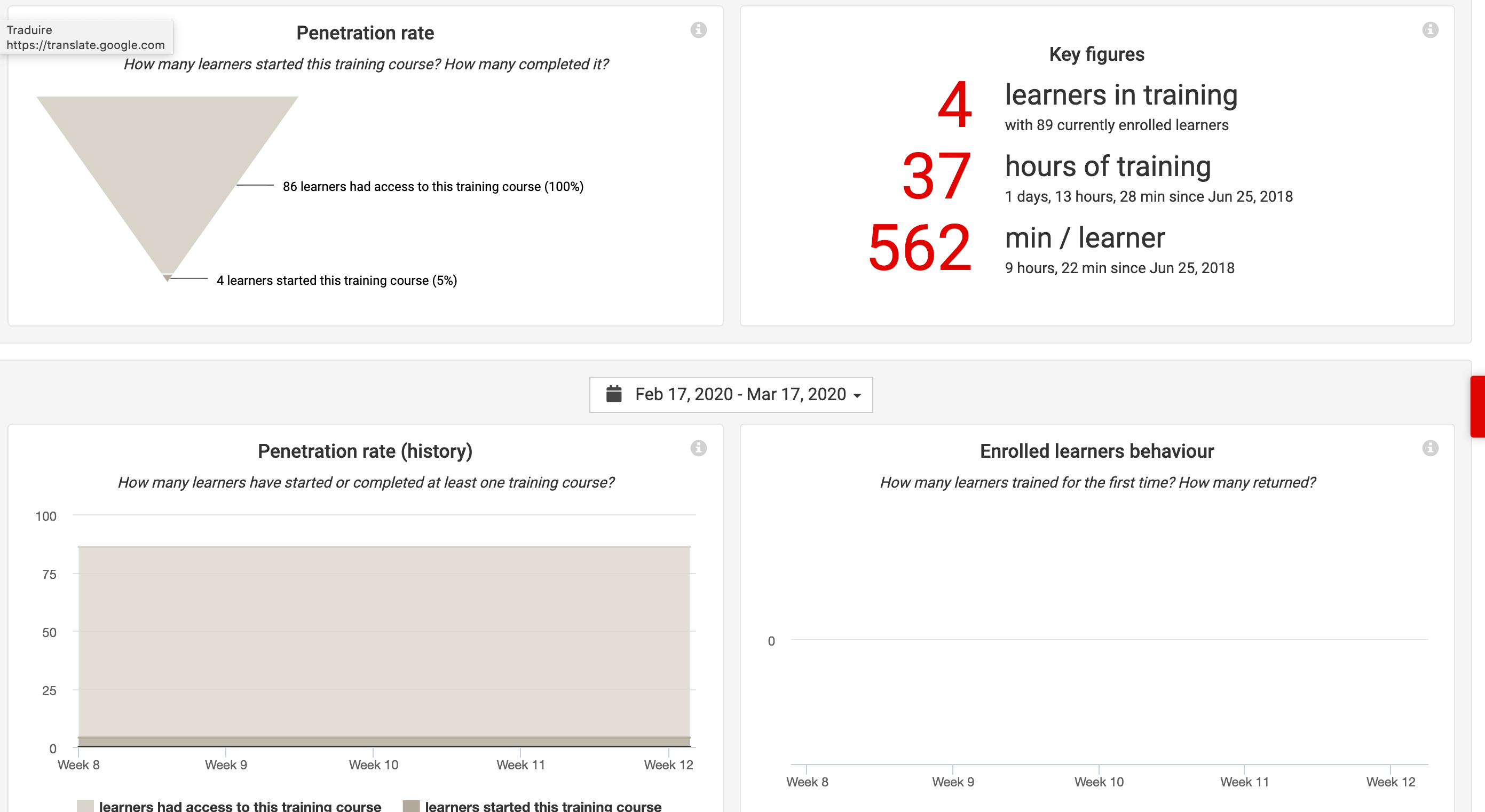 Note: All data can be filtered either by category or based on the custom fields of the learners accounts.
How to obtain a detailed view of the key indicators by filter (custom field)?
Click on Filters: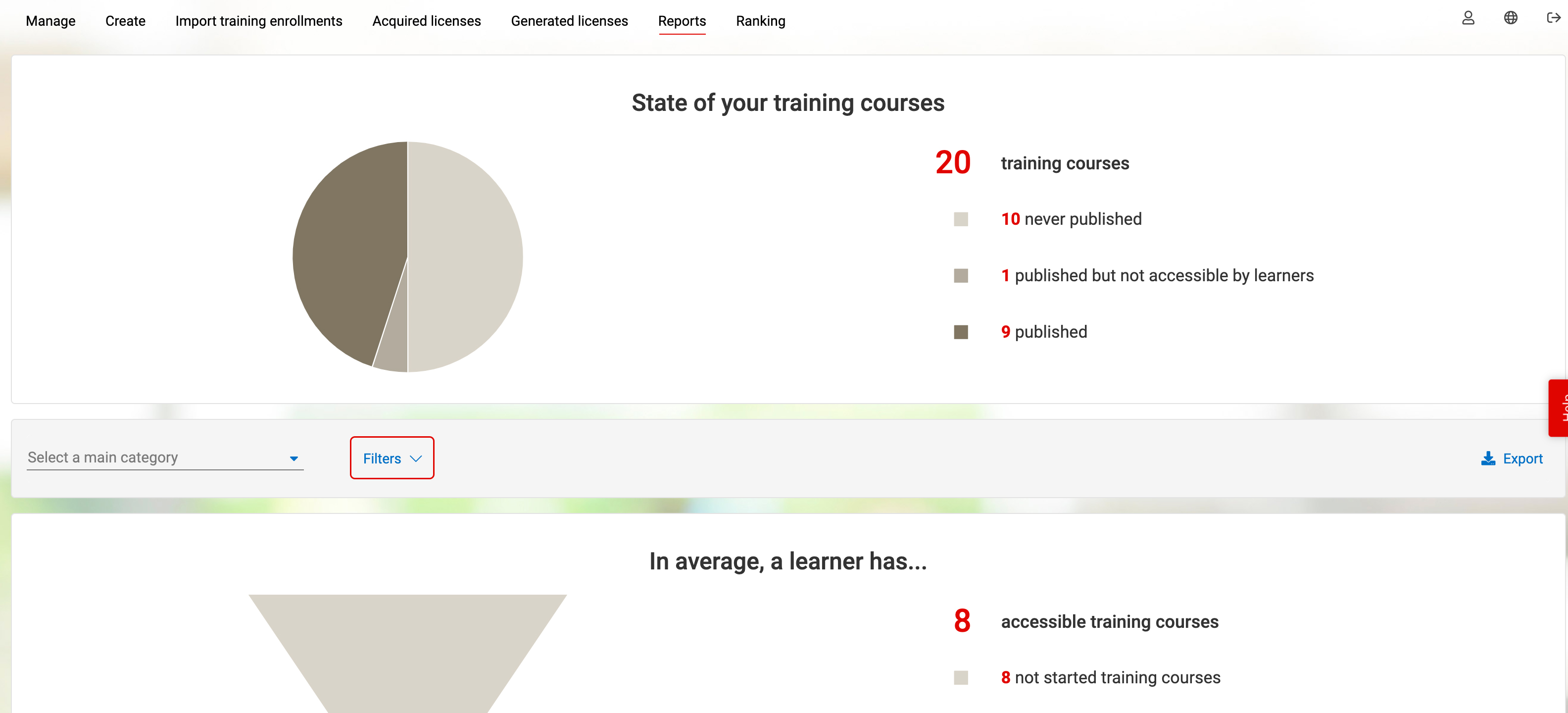 and fill in the information of the different custom fields.

Finish by clicking on Apply.
Note: If you made an error in one of the custom fields, click on Reset to erase the data and start again from the beginning.
How to obtain the key indicators over a defined period?
You can select a period for which you want to obtain the key indicators.
Note: This option will only update the History of the penetration rate and the Behavior of registered learners.
Click on the calendar

You have different options:
Last 30 days
Last 3 months
Last 12 months
Custom: use the calendar to define start date and end date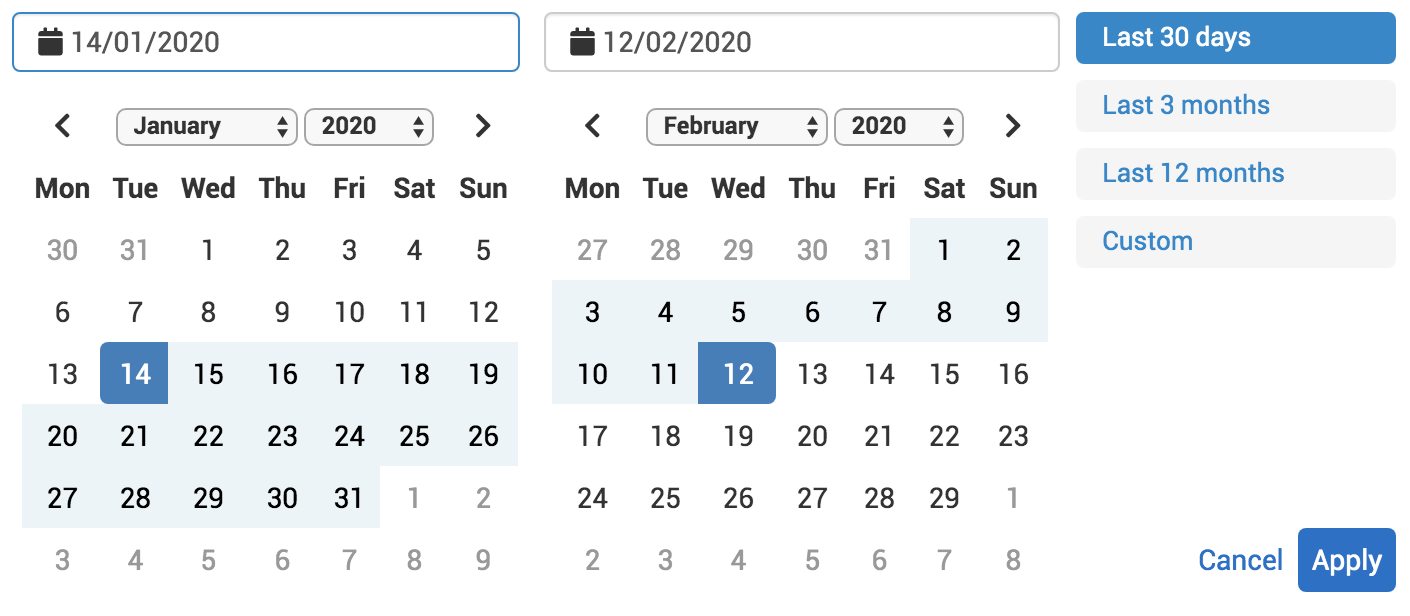 Click on Apply to confirm your selection.
How to export key indicators in Excel® format?
Click on Exporter to be able to consult these key indicators in an Excel® report.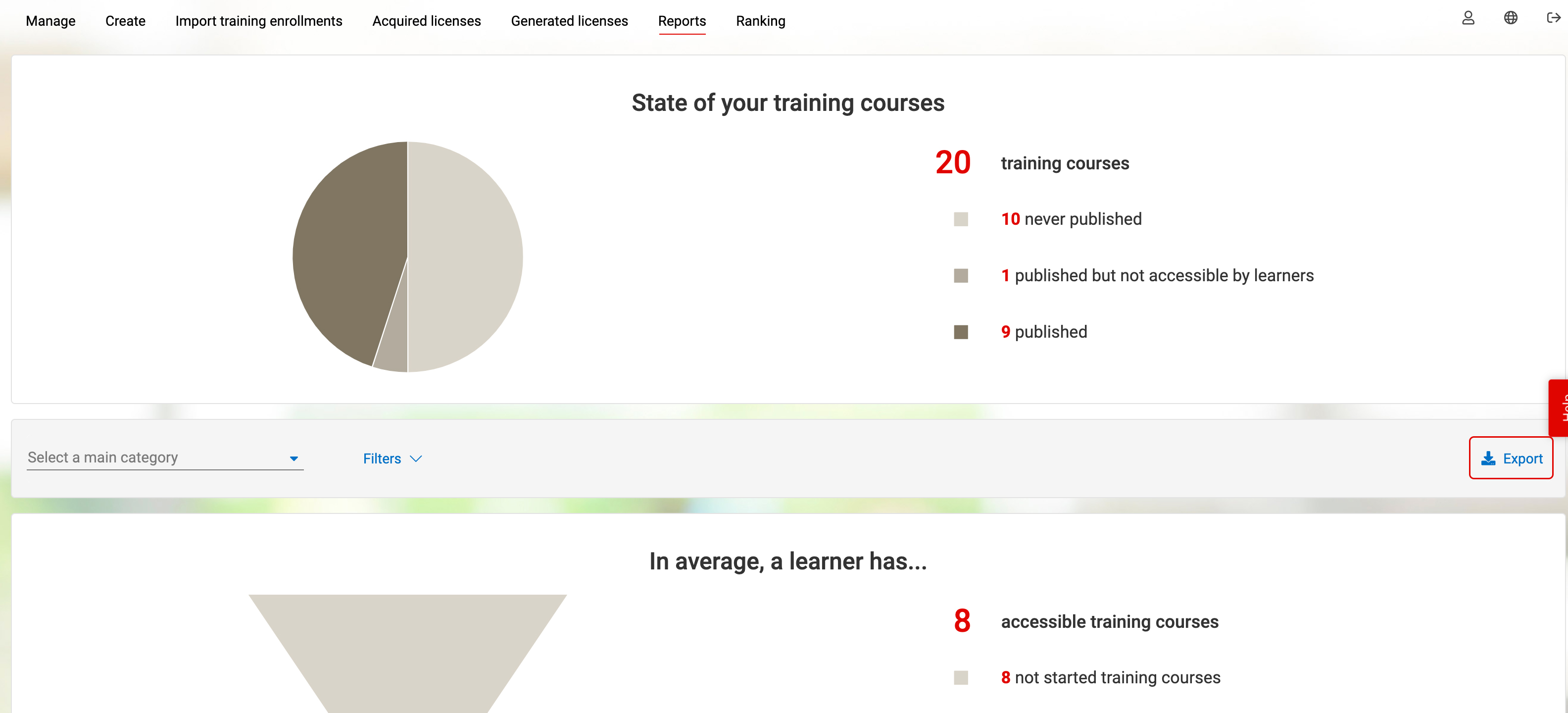 and select
the report language
the export by activity or by training course
the Export with metadata. The box is checked by default and allows the export with all the metadata, ie the Excel file will be very heavy to download. Therefore, uncheck the box to export your data to a lighter Excel file.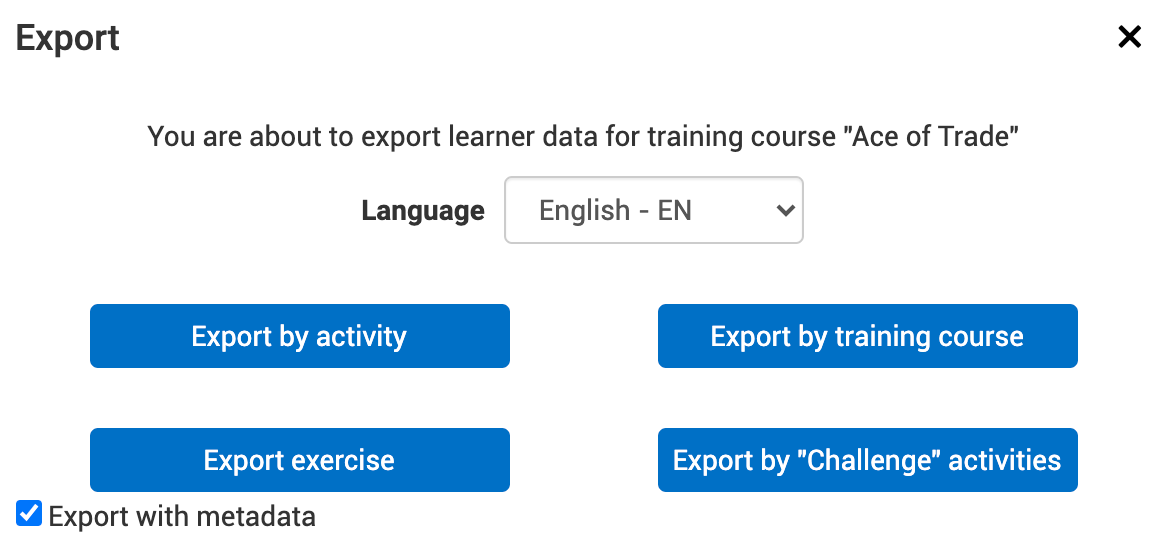 Other statistics about the training course are available:
> CATALOG / Training courses > your training course > Learning analytics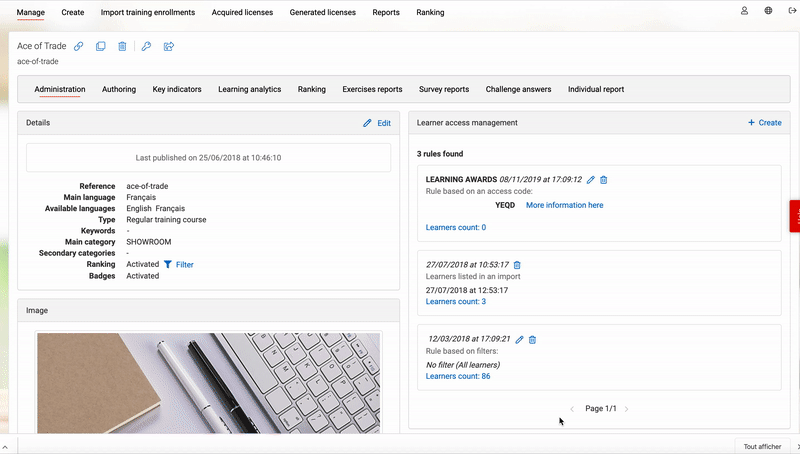 1. Progress
This section of statistics presents the following elements:
Average training course progress
Average progress per module: average progress and access rate per module
2. Scored activities
Average score: average scores of learners having started the training course
Average results: success rate of scored activities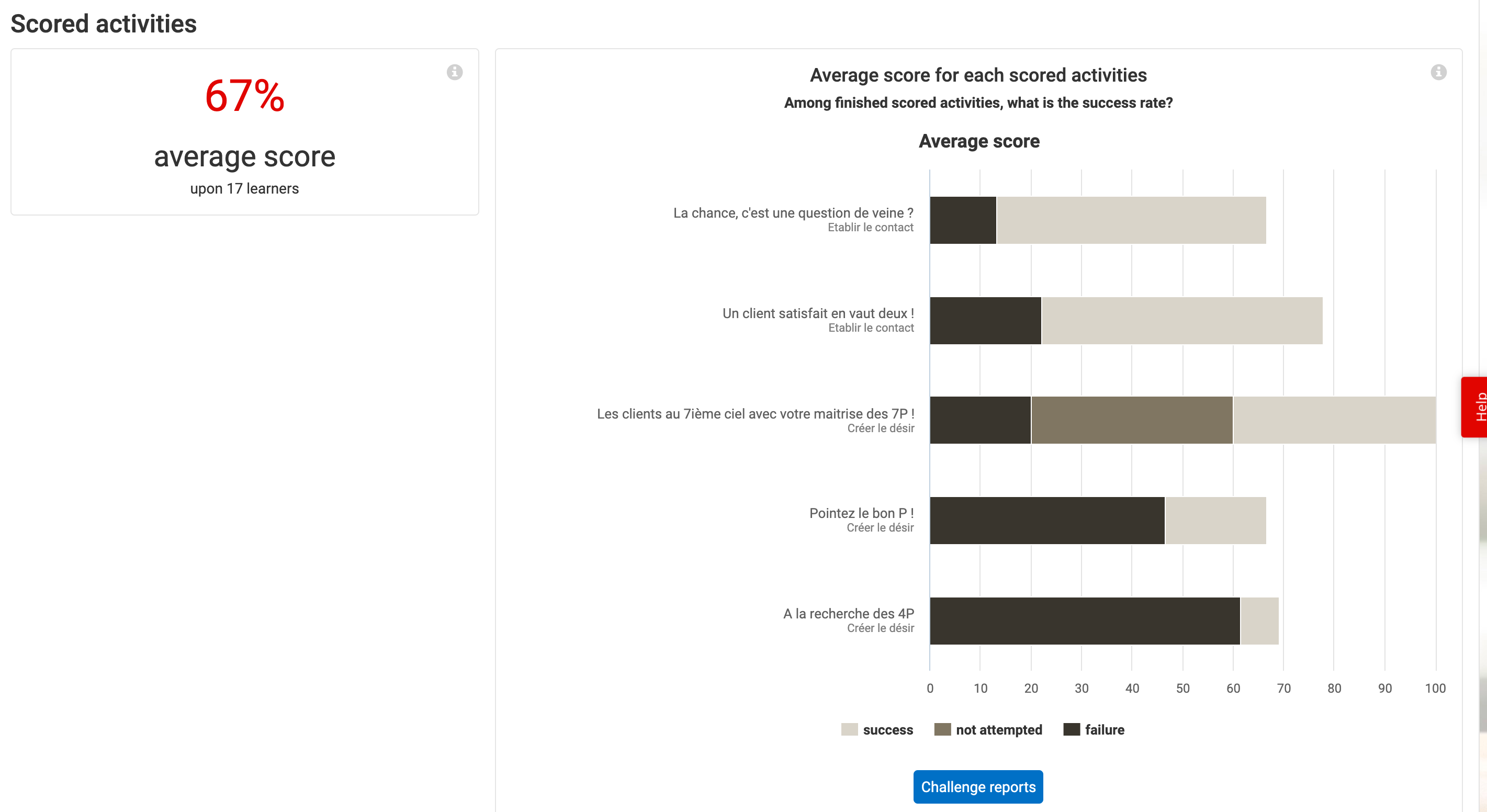 You can, from this section, download reports on Challenge activities
3. Certification rate:
This section shows the number of certificates obtained for the training course.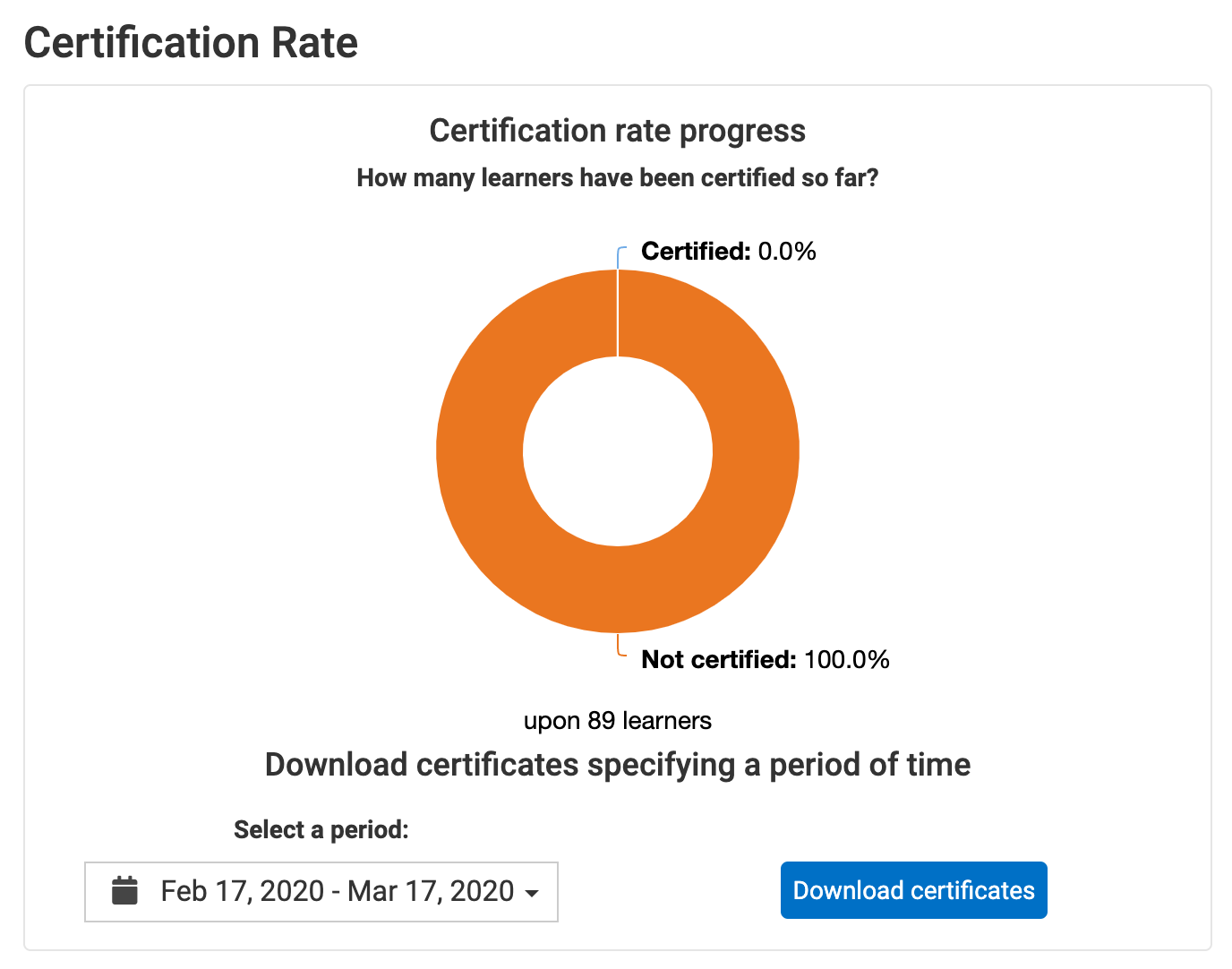 A button allows you to download all the certificates that have been issued for this training at once (for a given period or not).
You can also obtain the information for a defined period (see above).
2. Ranking
Read the article What is the learners ranking within a training course?
3. Exercises reports
Read the article What information can I get in the "Exercises report"?
4. Survey reports
Read the article How do I get my learner's answers to Survey activities?
5. Individual reports
Fill in the field with the name of the learner for whom you want statistics:


Note: the search is intuitive, this means that as you type text in the search bar, you will be offered learners whose name or login contains this text.
For the learner you have selected, you can see the following statistics:
Time spent in training course, progress in training course, number of points
Summary view of dates of first and last activity on training course, number of activities launched
Information indicating if the learner has been certified (or not) for the training course
Badges received by the learner
Progression by module (of the learner)
Results: success and failure of the learner in the scored activities of the training course