1. Statistics: Excel® export
The management interface provides detailed analyzes by learner and learning activity during an Excel export. This report contains the information of all training courses and / or applications managed by this management interface.

Note:

The "Export" functionality

ignores the filters activated

and exports all the available information
It exports the same information from the different analytics menus

Key indicators

and

Training courses reports.
Pre-formatted filters

in the Excel sheet allow users selecting the relevant information.
The information is in real time. This is an inventory of the data present in the management interface at the time of export.

The Excel report provides the following data:

NB: "Login" is the only mandatory learner filter. Other columns depend on learners' filter set up by the manager/trainer.

Training course/Application: Training course or application managed in the management interface
Login: The learner login ID
Learner account fields: email, first name, last name... Filters used by trainers/managers unless archived
Status: Active (learner can log in to the app) vs inactive (learner is created but has no (more) access to the application)
Activity: Activity name
Time spent: Cumulated time spent on the activity or a category
Progress: Advancement percentage of the activity or category completion
Score: Percentage of correctly answered questions. For scored activities only (for more information, read the article "What is a scored activity? "
Success: Boolean (0/1) indicating if the success threshold is reached. Only for scored activities
Has certification: if the training course is certifying, this column indicates whether the learner has received the certification (Yes) or not (No).
Points: Point gained by the learner, either by category or by activity (more details about the points rules, read the article "How are learners points calculated?

"

First launch:

date on which the learner first started the training course

Last launch: date on which the learner last launched the training course
# launches: number of times the learner has launched the training course
Enrollment date: date on which the learner was enrolled to the training course
Unenrollment date: date on which access to the training course has been revoked to the learner
Certification date: if the training course is certifying, date on which the learner has received his/her certification
Completion date: date on which the learner has finished the training course, in other words when the learner has done 100% of the training course's activities
Certifying: this column indicates whether the training course is certifying (Yes) or not (No).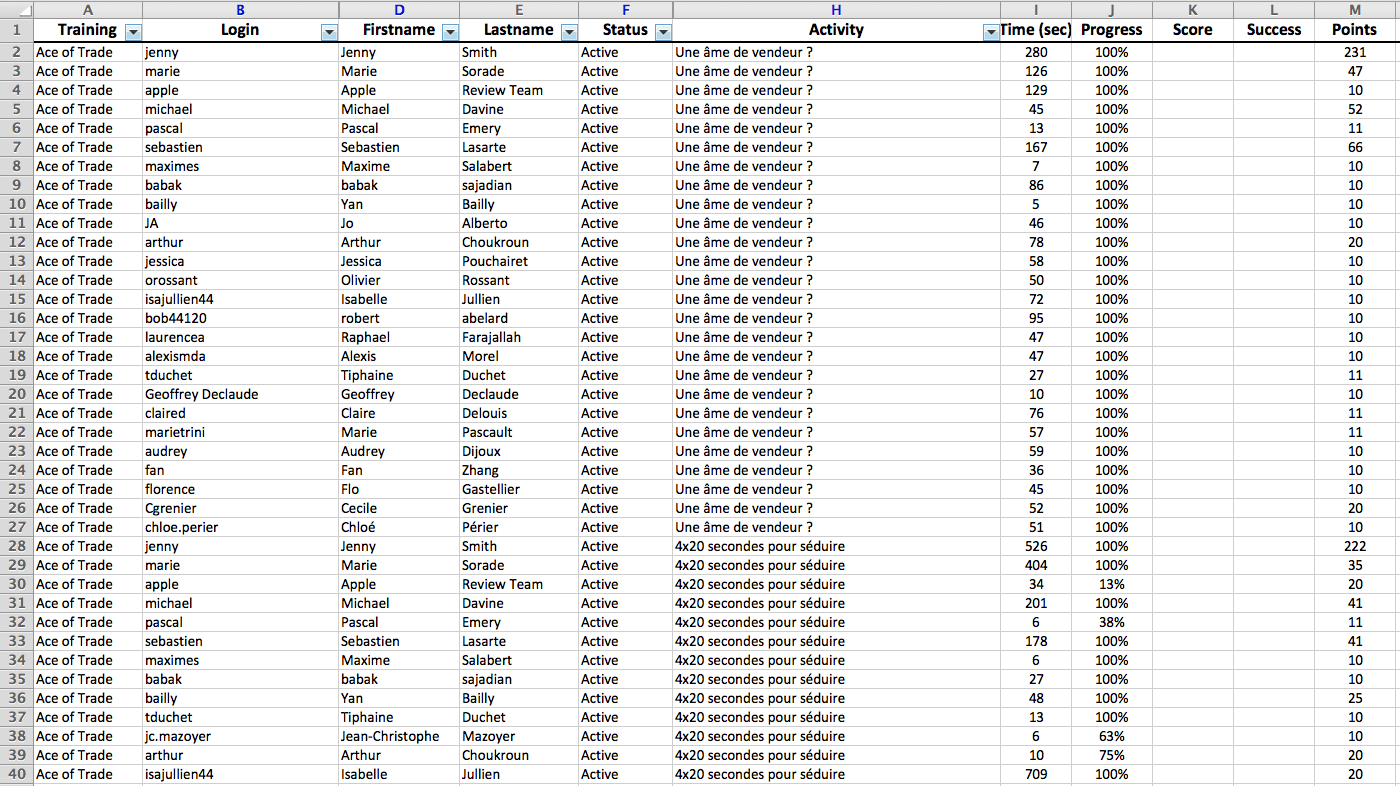 2. Data export customization:
It is recommended to access the Training courses statistics and rankings, Learners statistics and rankings ou The Wall : statistics and rankings section to know all the details concerning the customization of exports possible according to the different statistics.