Before learning how to share a training course demo, start by preparing the demo version. To do so, we advise you to refer to the article "How to prepare a demo version of my training course?"
With the aid of the Off-the-shelf Content functionality, you can then follow the same steps as when sharing a full version training course:
Any new client must start by sending you a content request via their Mission Center. Once you have received the request by email, you can download the client identity file (.key file, as an attachment to the email). This file only has to be added once. The client will not have to repeat the operation and you will be able to start directly at step 2 for subsequent licenses.

> CATALOG / Training courses > your training course > Administration

Click on Share a demo(see here if the button is not displayed)

Select the recipient, either by choosing "New client"(in which case drag and drop the .key identity file received with the client's request) or by choosing an "Existing client" (in which case select the client from the list of clients already registered).
New client : insert the .key file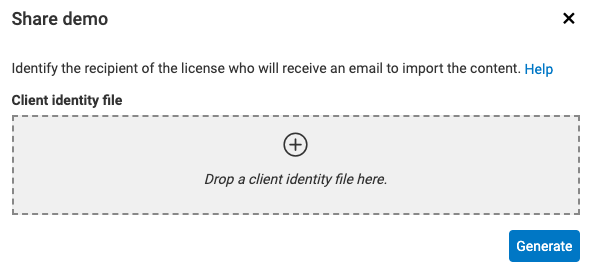 Note: for a demo, you do not have to fill in any other parameters. Demo sharing is automatically configured for an unlimited number of learners and without an expiry date.
To complete the process, click on Generate. At this point the client is notified by email and guided to the destination Mission Center to import the demo, by following the same steps as for using a training course license.
To use the demo mode on your own application rather than through other Mission Centers, find out how to show the demo of a training course to all your learners.
To be precise, the activities in demo version generate data during the consultation by the user and are taken into account in his license.