Comments published on the Wall are moderated in two stages:
The comment may be reported by a learner in the app

The manager then accepts or rejects the comment via the Mission Center
FROM THE APP TO THE MISSION CENTER
Learners can report a Wall comment that they consider offensive or inappropriate. To do so, they simply press and stay pressed on the comment in question and select Report.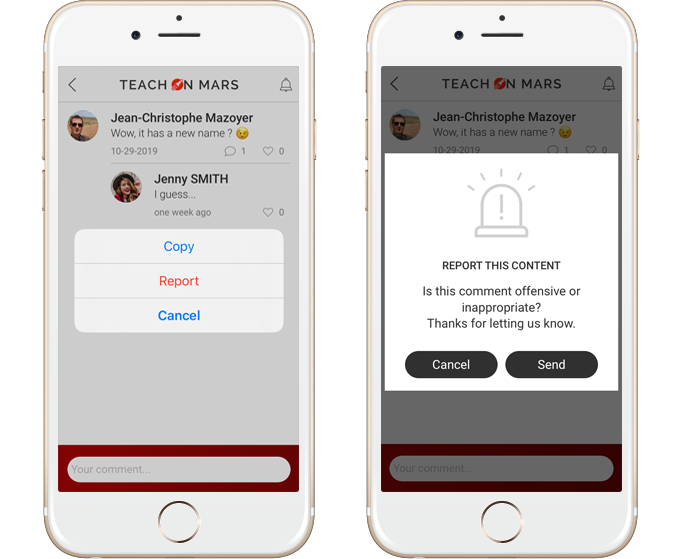 Reported comments are forwarded to the Mission Center in the Communications > Comments moderation section.
> COMMUNITY / Communications > Comments moderation

For each reported comment, the manager can open the communication (in the web application) and view the associated comments. The manager then chooses whether to accept or reject the reported comment.
You can filter the reported comments according to their status:
Not yet moderated

(comments newly reported)

Moderated

(log of moderated comments)

All reported comments

The comment has been accepted? It remains visible on the Wall.
The comment has been rejected? It disappears from the Wall. Instead, a comment This comment has been moderated appears.
A rejected comment remains archived in the Mission Center. The manager can re-accept the comment at any time so that it reappears in the Wall discussion thread.
PERMISSIONS TO REPORT AND MODERATE
Within the application, all learners who can comment on a communication are also entitled to report a comment on the same communication.
In order to be able to moderate comments via the Mission Center, one out of two conditions must be fulfilled:
either you have a "Super admin" account

: the super administrator has the necessary rights to moderate any comment reported

or you have a manager account with the role "Can moderate comments"

: the manager then has the necessary rights to moderate comments on communications they have published themselves.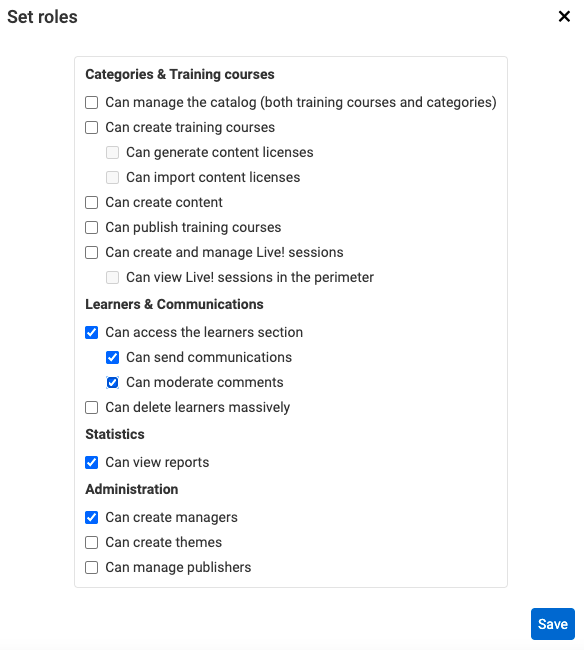 HOW A MANAGER IS NOTIFIED OF NEW COMMENTS ON
THE WALL?
There are no automatic notifications on the application or on the Mission Center of new comments to moderate. We advise you to consult your moderation page once a day - depending also on the number of communications with the activated Comments option that you send.
Articles that may be of interest to you:
- How commenting works with communications on the Wall?