You already have modules and activities in your training course and you would like to modify them?
> CATALOG / Training courses > your training course > Authoring
Pass the training course in "Editing" mode by clicking on Update the training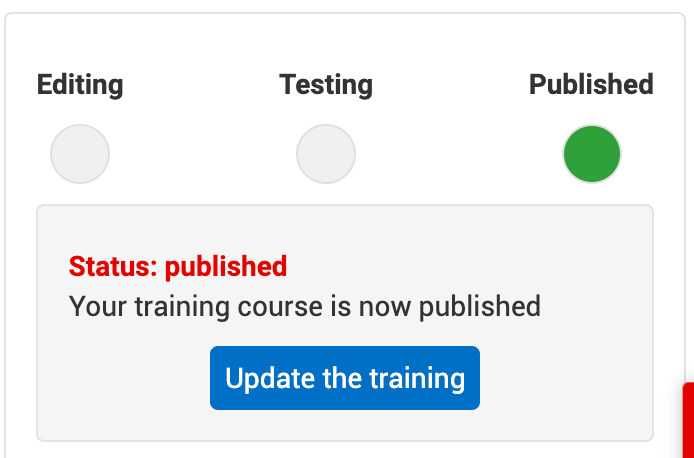 You can now do modifications:
On the modules
On the activities
Note: If the training course has already been published and you are editing it again, you can not modify the activity type anymore. Note that is it not possible either to move an activity from one module to another.
Good to know: Updating an activity has no impact on statistics.
The impacts on the learner side:
The learner will have to download the training course again to access it
The learner will always see that he has already completed the activity and will not be warned that it has been updated
1. How to modify a module?
Click on

to modify the module information:
with the Webauthoring tool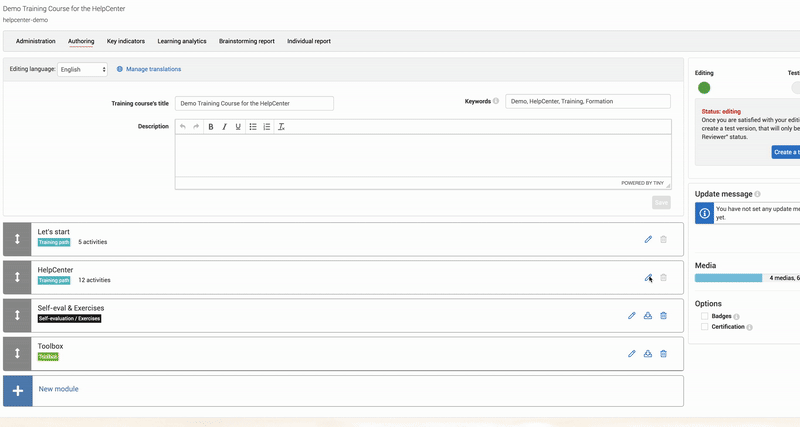 with the Excel® templates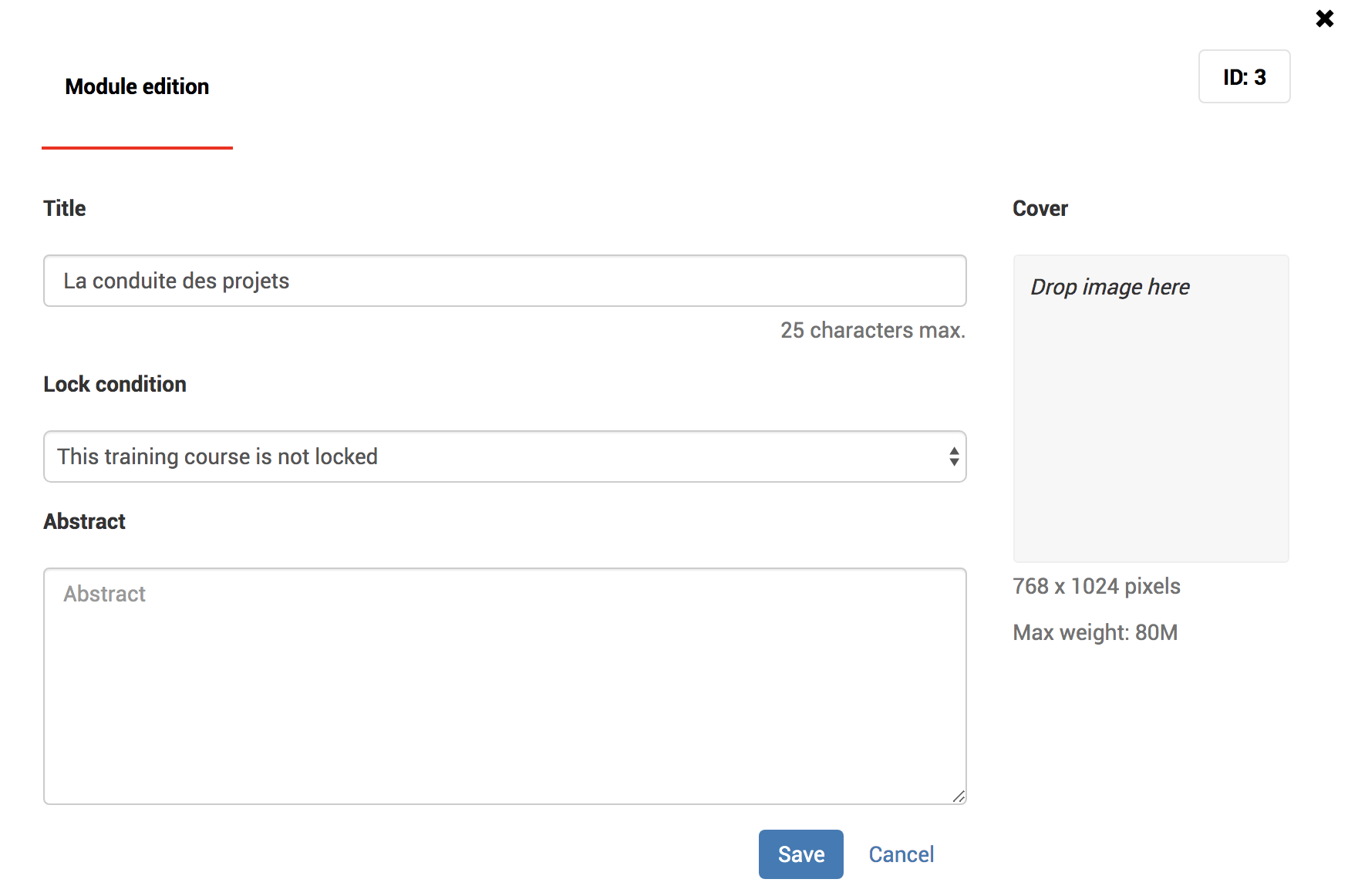 You can modify :
the module Title
The Lock condition (for more information, access the "Access training courses" section
Abstract: if you want to give a brief description of the module
Cover: if you want to add a cover image to your module
and finish by clicking on Save or Cancel if you do not wish to save your modifications to the module.
Note : in edit mode, you cannot change the type of a module. Example: if the module is of the "Toolbox" type, you cannot change it into a module of the "Training course" or "Self-evaluation / Exercises" type. The module type option is only accessible when it is created.
2. How to modify an activity?
To access the different activities contained in a module, click on the module name or on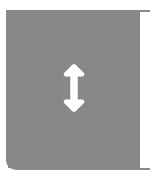 icon of the module. Select the activity to modify and click
.

With the Webauthoring tool
You can modify:
the Activity Title


Upload Excel® file
Manage media
Download content
Download empty Excel® template file of the activity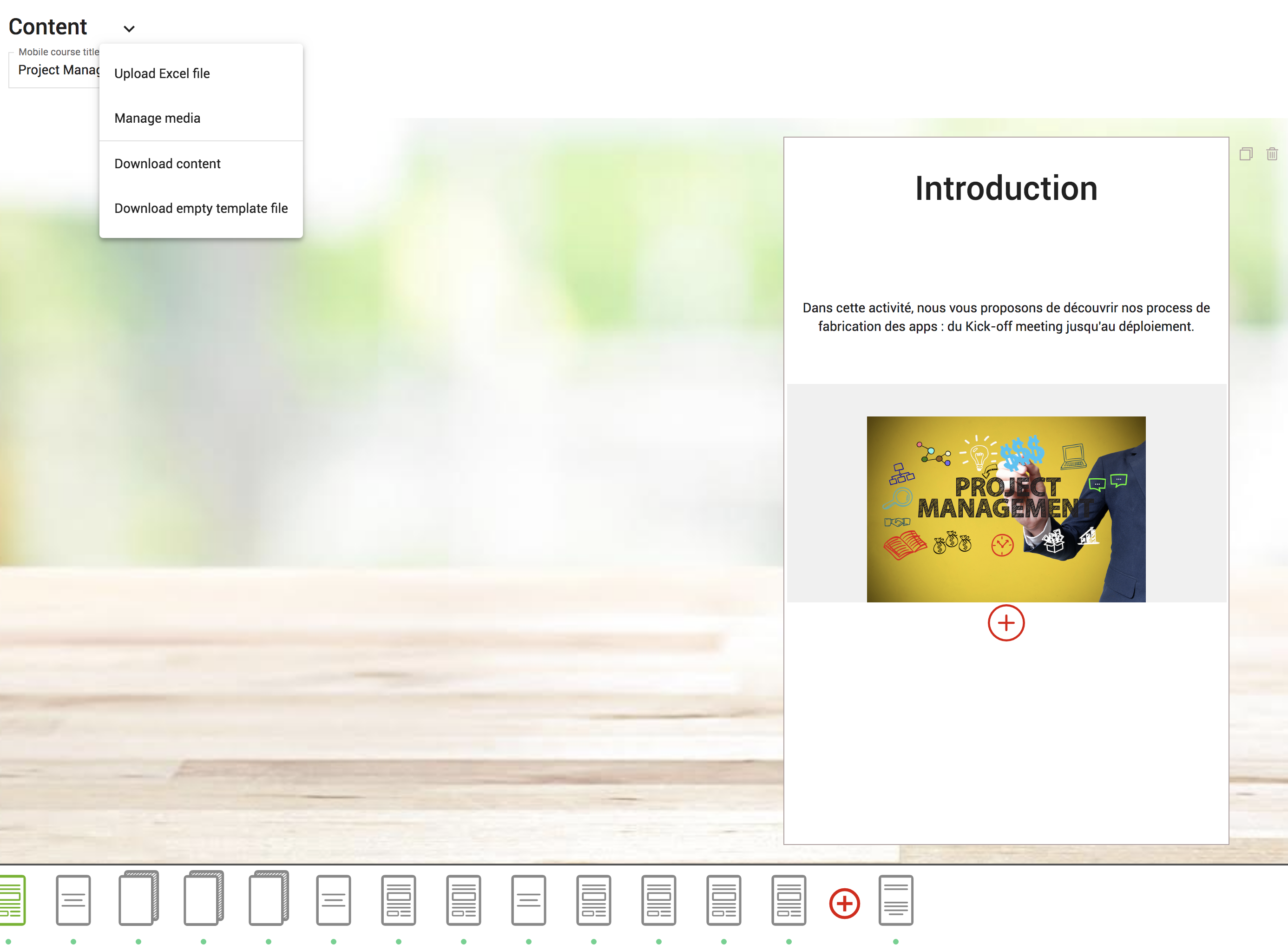 But you can also directly modify the cards linked to the activity to modify the texts and the media.
Note : the Activities details each activity and how to complete the activity using the Webauthoring tool
With the Excel
® templates
You can modify:
the Activity Title
Send or upload a new Excel® file: by drag/drop (be careful, this will overwrite the current version) (for more information, read the article "How to create training course content for the first time?"
Download the current Excel® template by clicking on Current version
Modify media : by clicking on

Media
Once the training course content has been edited and updated, you can again pass the training course status to Testing or Publication. Access the "Training course test and publication" category to know more.
Note : the Activities details each activity and how to complete the associated Excel® template