The Teach on Mars solution allows you to create a training course by integrating web contents.
Note: no statistic will be obtained with a training course from web contents (HTML).
This feature differs from HTML link integration in the dedicated sections of your Teach on Mars Enterprise training portal by:
Its

objective: the HTML training course fully fits into your educational path, within one of the training categories
Its

accessibility: the HTML training course is accessible in offline mode
Its

interaction: the HTML training course can retrieve elements of the application (for example, basic information about the learner: ID, language, first and last names, ...)
CREATE A WEB CONTENT TRAINING COURSE (HTML)
The process to create a Web content training course is the same as for the creation of a regular training course. Only the selection of the type of training differs: click on Web content instead of Regular training course.
> CATALOG / Training courses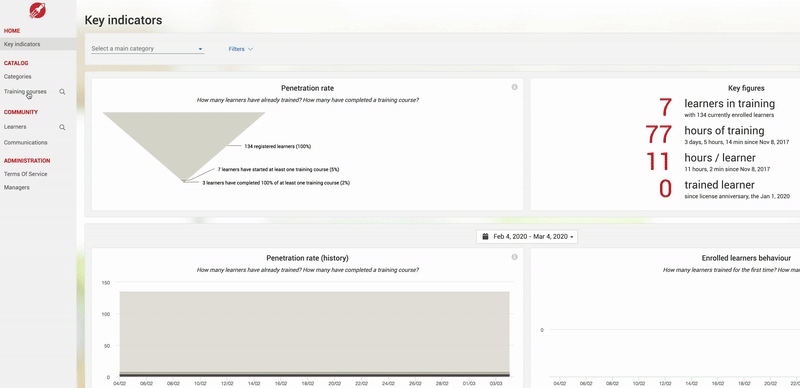 CREATE THE CONTENT OF WEB CONTENT TRAINING COURSE
> CATALOGUE (Catalog) / Formations (Training courses) > Edition de contenu (Authoring)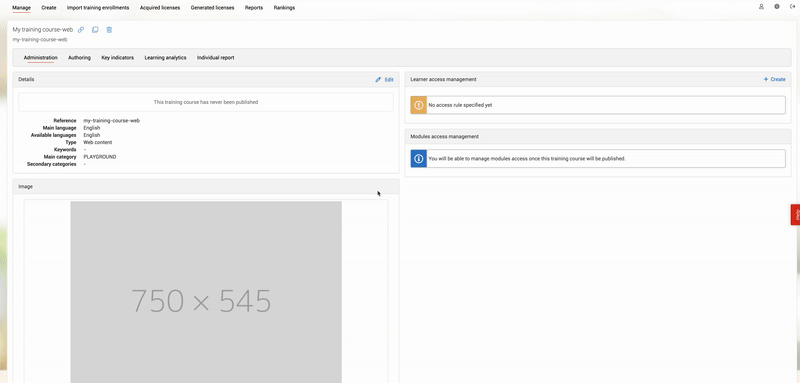 Access the Authoring page and click on the Drop archive file here section or simply drag / drop your .zip file to this area.
You can download a Web content activity template as example, at the top right of the screen.

The final Web content is a .zip file containing an index.html at the root of the .zip archive, essential, as well as all the content to work in offline mode.
The Current Version section allows you to download the currently used .zip file if the training was already existing.
Note: The LZMA compression method is not supported for zip archives.
When the contents of the training are loaded in the Mission Center, the manager has the possibility of
test your training on your device (tablet, phone, WebApp) in a test version,
edit your training again,
publish your training
In Test Version mode, the training is visible only to learners who are Content Reviewers. For more information, read the article "How do I give a learner the status of content reviewer?".
Once a course is created and published, it is, by default, not accessible to any learner. Go to the "Access to training" category for more information.